Short & Snappy with Yvonne Fein
DESCRIBE YOUR DREAMS.
Puzzling but interesting.
WHAT'S SOMETHING ON YOUR BUCKET LIST?
Trekking the Simpson Desert with a camel train.
FAVOURITE MOVIE?
Burnt by the Sun (Russian).
BEST GIFT YOU'VE EVER RECEIVED?
Engagement ring.
DESCRIBE YOUR HANDWRITING.
Appalling.
IN TEN YEARS, WHAT WILL YOU BE NOSTALGIC FOR?
My granddaughters' early years.
FAVOURITE WORD?
Published.
WHAT'S THE BEST SHORT STORY YOU'VE EVER READ?
The Magic Barrel (Bernard Malamud).
WHAT FICTIONAL PLACE WOULD YOU MOST LIKE TO VISIT?
Camelot.
MORNING OR NIGHT?
Night.
WHAT'S YOUR FAVOURITE THING ABOUT HOME?
Family.
WHAT'S THE LAST ADVENTURE YOU WENT ON?
Trekking sections of the Larapinta Trail.
WHERE'S THE FIRST PLACE YOU LOOK FOR INSPIRATION?
All around me.
IS CEREAL SOUP?
Hell no.
WHAT'S THE CLOSEST THING TO MAGIC?
Waterskiing.
---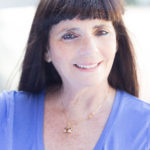 Yvonne Fein's published novels include April Fool, Torn Messiah, Rachel Racing Time. Yvonne has won awards for the Gotham Screenplay (NY) and Rhode Island Film Festival. Her essays, reviews and stories are published in Australia, US and UK. Her debut short story collection, Choose Somebody Else, was published by Wild Dingo Press.
View Yvonne's session times here!