Short & Snappy with Belinda Hermawan
DESCRIBE YOUR DREAMS.
Forgettable 90% of the time.
WHAT'S SOMETHING ON YOUR BUCKET LIST?
Overdue for a trip to Europe.
FAVOURITE MOVIE?
To All the Boys I've Loved Before on Netflix. You can never be too old for a YA rom-com.
BEST GIFT YOU'VE EVER RECEIVED?
A set of design books from Tate Modern from my late friend Matty G.
DESCRIBE YOUR HANDWRITING.
Standard cursive except for the lowercase 'r'.
IN TEN YEARS, WHAT WILL YOU BE NOSTALGIC FOR?
The energy I have now, probably.
FAVOURITE WORD?
'Accepted' on Submittable!
WHAT'S THE BEST SHORT STORY YOU'VE EVER READ?
Ghosts & Empties by Lauren Groff.
WHAT FICTIONAL PLACE WOULD YOU MOST LIKE TO VISIT?
Hogwarts.
MORNING OR NIGHT?
Night. I don't function well in the morning.
WHAT'S YOUR FAVOURITE THING ABOUT HOME?
The only person I need to listen to is myself.
WHAT'S THE LAST ADVENTURE YOU WENT ON?
Trying to find parking in CBD/Northbridge/Fremantle/UWA during peak times is an adventure.
WHERE'S THE FIRST PLACE YOU LOOK FOR INSPIRATION?
My photographic memory.
IS CEREAL SOUP?
I suppose it is!
WHAT'S THE CLOSEST THING TO MAGIC?
When a short story is written all in one session with hardly any editing required before it is accepted for publication.
---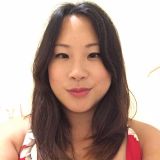 Belinda Hermawan is a HR professional/lawyer from Perth, Western Australia. Her short fiction has appeared in or is forthcoming in Flock, Split Lip Magazine and Typishly in the United States, and Westerly and Going Down Swinging in Australia. Belinda is also on the committee for the Australian Short Story Festival 2018.
View Belinda's session times here!