Short & Snappy with Brooke Dunnell
DESCRIBE YOUR DREAMS.
Vivid, but so dull that I often confuse them for half-memories. I also have stress dreams and often think, "Oh, I wish this was a dream…"
WHAT'S SOMETHING ON YOUR BUCKET LIST?
I went skydiving earlier this year, so that was a big tick. Maybe living overseas?
FAVOURITE MOVIE?
Donnie Darko.
BEST GIFT YOU'VE EVER RECEIVED?
Winter pyjamas with photos of my dogs printed into the fabric!
DESCRIBE YOUR HANDWRITING.
Disjointed but striking.
IN TEN YEARS, WHAT WILL YOU BE NOSTALGIC FOR?
Temperate weather?
FAVOURITE WORD?
That's like picking a favourite kid.
WHAT'S THE BEST SHORT STORY YOU'VE EVER READ?
The first one that comes to mind is 'The Lap Pool' by Robert Drewe.
WHAT FICTIONAL PLACE WOULD YOU MOST LIKE TO VISIT?
Probably Willy Wonka's chocolate factory, but after hours, so I don't get the creepiness and the judgmental singing.
MORNING OR NIGHT?
Night.
WHAT'S YOUR FAVOURITE THING ABOUT HOME?
My bookshelves, my dogs and the couch.
WHAT'S THE LAST ADVENTURE YOU WENT ON?
The aforementioned skydiving was pretty adventurous for me!
WHERE'S THE FIRST PLACE YOU LOOK FOR INSPIRATION?
The backs of my eyelids, probably.
IS CEREAL SOUP?
Is a hotdog a sandwich?
WHAT'S THE CLOSEST THING TO MAGIC?
The mind-reading you can do with extremely close friends.
---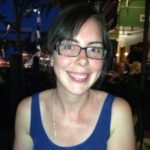 Brooke Dunnell is a Perth-born writer whose fiction has been published in the Best Australian Stories, New Australian Stories 2, Fire and Allnighter as well as Meanjin, Westerly and Voiceworks. Her short stories have been commended in the 2013 FAWWA Hadow/Stuart Short Story Competition, the 2004 University of Canberra National Short Story Competition, and Writer-in-Residence for Peter Cowan Writers Centre (PCWC) in 2016. View Brooke's session times here!