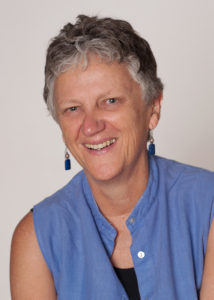 A couple of years ago, in a lull between novels, Mag Merrilees started writing an occasional online blog about four generations of a rainbow family. The pieces morphed into a radio serial, and were then published by Wakefield Press in 2014 as Fables Queer & Familiar, with cartoon illustrations by Chia Moan. Further Fables Queer & Familiar are online now and will be published in book form next year. Take Big Rough Stones, a novel featuring some of the Fables characters, will also be published shortly.
Mag's debut novel The First Week, was published in 2013 after winning the Wakefield Press Unpublished Manuscript Award at Adelaide Writers' Week. It was then shortlisted for the Barbara Jefferis Award, a NSW Premier's Award and the Onkaparinga People's Choice Award. Mag's short work has appeared in Meanjin, Griffith Review and Island. See www.margaretmerrilees.com for details.
Mag will be discussing 'Humour' in short fiction with Carmel Bird on Saturday Nov 4 at 10:30am, and 'Blogging your way to publication' with Chelsea Avard at 2:40pm on Sunday Nov 5.