2019 Festival map
Full-size festival map
Zoomed festival map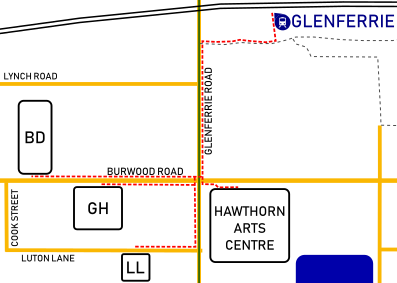 Location details
Beer DeLuxe

At Beer DeLuxe Hawthorn we have top-shelf live music and entertainment and a variety of beverages from world-class international breweries. Enjoy craft beers, good food and a vibrant atmosphere.
Friday night event.
Glenferrie Hotel
The Glenferrie Hotel is located in the heart of Hawthorn with character and history that dates back to 1888. Situated at the rear of the Hotel is an amazing beer garden and function room. The Glenferrie Hotel prides itself on a reputation for quality food, friendly service and a lively atmosphere.
Saturday night event.
Luton Lane Wine Bar
The Luton Lane Wine Bar is a monochromatic alcove beneath a residential apartment block, offering 120 wines from Spain and Italy with an expansive accompanying menu. This is a new offering from the owners of the nearby Nevermind Bar.
Sunday night event.
Second Empire
The Second Empire café can be found in the historic Hawthorn Arts Centre building. Here you'll discover excellent coffee and food made from local and ethically sourced ingredients. The Second Empire is also offering exclusive specials for festival attendees, including:
$3.50 coffee with any food purchase,
$8.00 coffee and cake, and
$12.00 house-made pie or quiche served with a coffee or cold drink.
Zen Japanese
Zen means kindness and goodness which is every bit of what is exuded by the staff at this alluring Japanese restaurant. This cosy restaurant offers fresh and flavoursome traditional Japanese cuisine, with a stylish and vibrant décor and intimate lighting. Be spoiled by the polite and attentive service of the professional staff at Zen.
Discounts for Australian Short Story Festival attendees.
Sapa Hills
Sapa Hills offers a truly unique Vietnamese dining experience. You'll enjoy the atmosphere – an ambience inspired by the geography and people of the Sapa region. The food is fresh, colourful and prepared with great care.
Discounts for Australian Short Story Festival attendees.
Santoni Pizza
This sleek, three-storey pizza bar keeps things simple. The pared-back menu is typical of authentic, fuss-free Italian cuisine. Thin pizza bases come with blistered crusts and only four or five toppings, carefully selected to create well-balanced spins on old classics. "Inspired, we built our menu on a foundation of fresh ingredients, great flavours and good company, becoming a destination for all those seeking an authentic taste of Italia."
Aangan Express
A quaint Indian restaurant nearby to all venues, offering warm service and authentic food at a low cost.